The Louisville Slugger Museum Exhibit


---
According to the legend, Bud Hillerich turned the first wooden baseball bat for Pete Browning in 1884 and the "Louisville Slugger" was registered with the United States Government as an official trademark in 1890. The "Louisville Slugger" organization has been turning out baseball bats since these earlier milestones in history. "Louisville Slugger" remains today the premiere producer of finely crafted bats in the United States.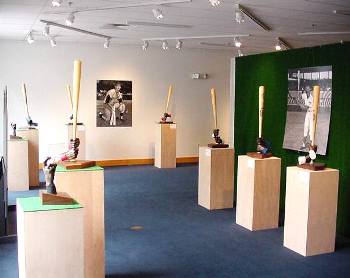 Starting April, 3 2006 the "Louisville Slugger" Museum hosted a presentation of the art work of Raelee Frazier. The exhibit featured the hands of baseball's greatest hitters holding their personally monogrammed "Louisville Slugger" bats the same instruments these hitters used to accumulate their outstanding hitting records in the Major Leagues. These remarkable collectibles celebrate the accomplishments of the great Hitters in baseball and the "Louisville Slugger" bat has always been a major part of this story.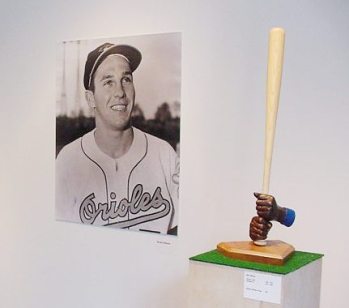 These life cast bronze sculptures capture the touch, power, and detail of the great hitter's of the game standing at the plate waiting for the next pitch. Each piece is a masterful creation by the distinguished artist Raelee Frazier of Highland Studio in Denver Colorado. The "Louisville Slugger" bat has been an integral part of Raelee Frazier's art since she began producing Hitter's hands.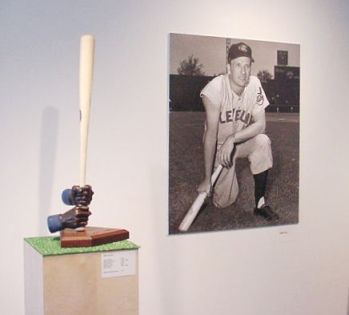 The characteristic element that distinguishes Hitter's Hands collectibles from other sports Memorabilia is the fact that these art works bring a living part of the Baseball Player into the collectible. In addition a signed and numbered Certificate of Authenticity carries the players signature in ink as well laser cut signatures on the customized "Louisville Slugger" bat and the sculptures base. No other sports memorabilia offers the collector three signatures associated with a single item including a certificate of authenticity signed by the player and artist.:
These bronze sculptures are incomparable examples of sports memorabilia capturing the personality and distinguishing features of each historic player's grip on a bat . Each sculpture includes an inscribed Louisville slugger bat produced for the player during his career. If a player has been inducted into the Baseball Hall of Fame the year of his induction is inscribed on the bat. In addition the base is walnut and inscribed by a laser with the players signature.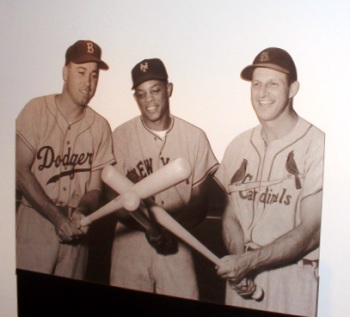 Each bronze edition is strictly limited to 36 items and each sculpture is accompanied with a certificate of Authenticity telling when each piece was manufactured, the number in the edition and signed by the player.
Highlands Studio has created bronze hands holding the personally monogrammed Louisville Slugger bats of Baseball's Greatest hitters.
The following baseball players exploits are commemorated in limited edition bronzes that will be on display at the Museum:
"A Show Of Hands"

April 3-Aug 31
Louisville Slugger Museum,
800 West Main St. , Louisville , KY 40202
Sluggers
1."Double Duty" Radclifffe (Pittsburgh Crawfords)
2. Stan Musial (St. Louis)
3. Ted Williams (Boston)
4. Sammy Sosa (Chicago)
5. Eddie Mathews (Boston)
6. Brooks Robinson (Baltimore)
7. Ernie Banks (Chicago)
8. Richie Ashburn (Philadelphia)
9. Johnny Bench (Cincinnati)
10."Buck" O'Neil (Kansas City)
11. Billy Williams (Chicago)
12. Tony Gwynn (San Diego)
13. "Pee Wee" Reese (Brooklyn)
14. Lou Brock (Chicago, St Louis)
15. Ralph Kiner (Pittsburgh)
16. Al Kaline (Detroit)
17."Duke Snider" (Brooklyn)
18. Joe Morgan (Cincinnati)
Pitchers
19. Greg Maddux (Atlanta)
20. Fergie Jenkins (Chicago)
21. Bob Gibson (St. Louis)
22. "Goose Gossage" (New York)