Welcome to the Highland Studio Web Pages dedicated to sports hero's from Major League Baseball of the last sixty years
Todd Helton's Hitter Hands
From a collection of incomparable sports art By Raelee Frazier
About Todd Helton
Few ball players from Major League Baseball that have had an impact on the overall quality of play in Major League Baseball that Todd Helton has had over the last few years . Since being drafted by the Colorado Rockies in the first round of the 1995 Draft Todd has distinguished himself with pure production on both the offensive and defensive sides of the game. Todd has improved his overall performance in each consecutive season since being drafted into the Major leagues.
In his first five season's with the Colorado Rockies Baseball team Todd had become noticed as one of the premiere players in the game.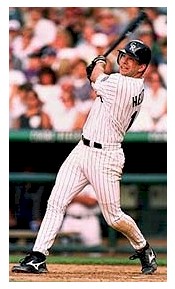 Some highlights of Todd's distinguished career with the Colorado Rockies Baseball team:
2001: Finished the season runner-up to Larry Walker for the NL batting title, hitting .336 (197-for-587) with 54 doubles, two triples, 49 homers and 146 RBI.
2000: Batting Champion NL, Hank Aaron Award for best offensive player , NL RBI Leader
2000: Todd completed one of the finest wire-to-wire campaigns ever...the Associated Press named him Major League Player of the Year.
2000: He won his first career batting title, by 17 points, leading the majors with a .372 average
2000-2001: The 293 runs knocked in over the last two seasons is the most combined in back-to-back seasons in franchise History
2001: Todd finished the season with over 100 extra-base hits for the second consecutive season, becoming the first player in MLB history to accomplish that feat.
With 105 total extra base hits in 2001 (54 doubles, two triples and 49 homers).
Todd had 103 extra-base hits In 2000, (59 doubles, two triples and 47 homers).
Helton became only the third player in Major League history to have multiple extra base-hit seasons in a career. He now joins the immortal Lou Gehrig and Chuck Klein as the only players to have two seasons of 100-plus extra base hits.
400 AGAIN....Todd finished the 2001 season with 402 total bases on the year, becoming only the fourth player in history to total 400-plus

---
"It's not hard to make yourself better if you are willing to work at it," Helton said. "It's a priority for me because I can help my team win games with my glove as well."
---
Often when players are known for their offensives skills their defense goes relatively unnoticed however Helton produces both offensively and defensively making him the ultimate double threat to his opposition.
...Todd has a career .995 average as a fielder, making him one of the toughest defensive first bases in baseball, battling the late-evening Coors Field sun most of the summer...since '98, he's ranked among major league leaders in 3-6-3 double plays; he has a quick release and a very accurate throwing arm.
2001 Todd earned the Golden Glove Award for his defensive abilities with the with the Colorado Rockies Baseball team.
2000: In the field, his .995 fielding percentage ranked third among NL first basemen...however, he led NL first basemen in games (160), putouts (1,326), assists (149), total chances (1,482) and double plays (143)...he originated 11 ground-ball double plays...and, he built a 43-game errorless streak...the stretch from June 26-Aug. 12 covered 411 total chances.
---

---