ARTprints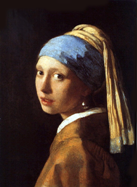 Ark Prints

Oleg Stavrowsky

Earl Waggoner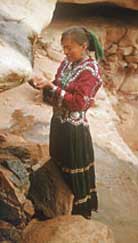 Images of Early America Available in fine art prints by Leo Bryant



page> 1 / 2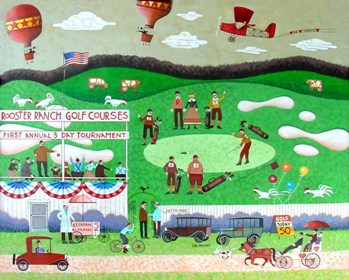 ROOSTER RANCH GOLF TOURNAMENT


ROOSTER RANCH GOLF TOURNAMENT
As you can see from viewing 'ROOSTER RANCH GOLF TOURNAMENT,' it was not meant to historically depict, by PGA standards, a factual golf tournament. In all of my art I take a lot of liberties that are meant to 'artistically' enhance. I think Abner Doubleday would approve, don't you? Or, was it baseball Abner invented?
Why the roosters? Artistic license. I needed more color (well white is a color, isn't it.) Otherwise, too much green upon green. I could have called it 'QUAIL RANCH' but quail are not the most colorful, or easiest birds to paint. And, in the early days, folks were not so particular about rules. If there were a few roosters roaming around, the only question you would need to ask is, where are the hens?
These were the days before 31 flavors were ever invented. Ice cream began with vanilla, and then came chocolate, and finally the ultimate - strawberry! And, a DOUBLE DIP for only a nickel! I remember an ice cream wagon of this vintage. It used to be pushed down our street in the summer time, when I was 3 or 4 years old. My folks couldn't always afford to contribute a nickel, but I never failed to give them the opportunity. I'll never forget the day 'mean' cousin Roy, also 3 or 4 years old, pushed the ice cream wagon over 'cause the vendor wouldn't extend credit. Then, he ran for the house, and under the bed, where his mama couldn't reach him.
Horses and buggies were on their way OUT as the primary means of transportation, and the 'horseless' carriage was on its way IN. That's why you see only one horse and carriage, and three automobiles. Of course, the carriage is not just any old carriage. I wouldn't mind arriving in it. But, what professional golfer of the turn of the century would be caught dead, arriving at the ROOSTER RANCH GOLF TOURNAMENT in a horse and buggy, when he could arrive in a brand new 'flivver,' to the ooh's and aah's of the gallery? Pity the poor rooster who dared land on one of them and leave his 'calling card.'
As you can plainly tell, the entrepreneur farmer whose land is occupied by ROOSTER RANCH Golf Course is paying more attention to golf than he is his cows. I'm not sure if the three Jerseys will make it 'til milking time. If they do, they will be in 'udder' desperation. Fortunately, they don't seem to be intimidated by the two hot air balloons, and the low flying airplane, towing an all important message
"LEO LOVES LENETTE!'
So, don't take the First Annual "ROOSTER RANCH GOLF TOURNAMENT" too seriously. The artist is obviously more farmer than golfer, and he may be a little 'cowed,' but not too 'chicken' to admit it. So, step up to the gate, pay your fee, and move in with the others. Just be careful where you step!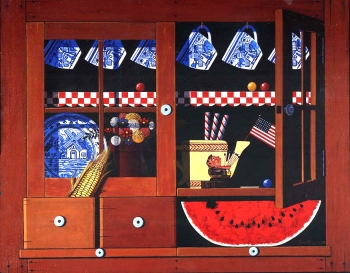 Cabinet With Melon

Cabinet With Melon
Who ever heard of a cabinet with a slice of watermelon in it? Why, everyone of course! It gives the cabinet color and texture and warmth, and it will never sour or go bad.
A cabinet with glass doors is a view upon the wonderful world of reminiscence, the world of yesterday where we often long to be.
A cabinet with glass doors is a reminder that little things do count. A bouquet of flowers that never wilt and they make the cabinet smell good - if only your imagination is good enough.
A cabinet with glass doors where one views a tea pitcher and your favorite tea cups, a reminder of the pleasant hours spent with friends or loved ones in gracious conversation.
A cabinet with glass doors is a handy place to store marbles that once belonged to him, the little tike that once was yours, but now in later years belongs to her.
A cabinet with glass doors is a handy place to store matches to light the fireplace, or the barbecue.
A cabinet with glass doors is the right place to stash a few sticks of peppermint candy for the child or grandchild, and the child will love you for your thoughtfulness.
A cabinet with glass doors may not be the place where you would expect to find graffiti saying 'Leo Loves Lenette,' but in a sneaky, symbolic way you '11 find it etched on the bottom of the plate. Yes, Leo LOVES Lenette. She is his life, his love, his reason for being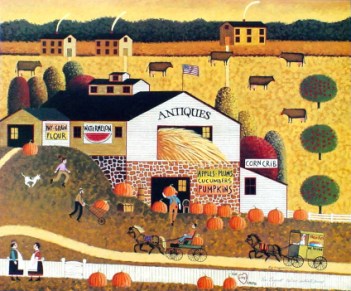 Happy Valley Pumpkin Farm

Happy Valley Pumpkin Farm
I always tell folks that my paintings show no place in particular. I want the viewers to choose their own location. But, that isn't so when you view Happy Valley Pumpkin Farm. I want you to meet the farm's owner, Myron Punkinoff. The farm has been in the Punkinoff family for 200 years. Before Myron it was his father, Hiram. Before Hiram it was Myron's grandfather, Byron. The farm has always grown pumpkins. The best pumpkins in Happy Valley, and maybe the world.
That's Myron carrying the big pumpkin into the barn. He can shoulder two pumpkins this size at one time, one on each shoulder of course. Myron is a good farmer, a good husband, a good father, a good employer, and he still finds the time to be a good deacon in his church. Not only that, he is the mainstay at Town Hall every Thursday night. That's Myron's cousin' Dudley, pushing the wheelbarrow. Running across the knoll is Myron's oldest son' Peter Punkinoff. Ol' Spot, running beside him, has been with the family ten years plus. Spot is not a house dog. He is chief guard around the barn at night, and only comes near enough to the house to catch Mrs. Punkinoft's left over biscuits and ham bones after supper.
See those two lovely, well fed ladies outside the fence? They meet here every week day, 'officially' to get the mail, which is in boxes just across the road. 'Unofficially,' they meet to exchange news of the community. Some folks call it gossip. Their names are Perfidia Hershmeyer and Twila Tiddliboom. To their good, they also manage the pie kitchen in back of the antique store, where Myron's delicious pumpkin pies come rolling off the assembly line. What gos-, I mean what news they missed at mail time, they catch up on at the bakery. Myron has five delivery buggies. One of them has just sold out, and is returning to the kitchen for another load of Happy Valley Pumpkin Farm pies.
I love the pumpkin farm. I love it for it's bustling, but peacefill atmosphere. Everything here is black and white, no grays, well maybe pumpkin. I love the smells inside the barn. The smells are a combination of fruits, nuts, hay, saddles, harness, and home made pickles, with a good measure of aromas from the pie shop mixed in. I love the changing of the four seasons on the pumpkin farm. I especially love the changing of summer into fall, when the pumpkins are ripe, and the color of the whole universe seems to be pumpkin. I'll never leave Happy Valley Pumpkin Farm. There is no other place on earth that can compare. Come join me. I think you'll like it too - even if you don't like pumpkin pie. But then, you've never tasted real pumpkin pie until you've tasted Myron's Happy Valley Pumpkin Farm pie.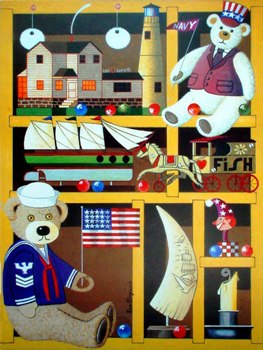 SAILOR BEAR WITH MEMORY BOX
|
SAILOR BEAR WITH MEMORY BOX
As I look at SAILOR BEAR WITH MEMORY BOX, I ask myself what does this particular picture mean to me? As a matter of fact, it has a lot of meanings. The SAILOR BEAR in the lower left comer means this is the bear given to me during my bear collecting days by our daughter Susan. It is a 'honey bear,' and it is very special to me.
I look in the upper right hand comer, at the patriotic 'white bear,' and it reminds me of our grandson, Jeffrey, who left us at age 19. We miss him so' and the 'white bear,' a companion 'brown bear,' given me by Jeffrey also, keeps him always in my memory. Thank you, Jeffrey. Grandpa loves you.
The lighthouse in the upper left comer reminds me how much I love lighthouses. They are so much a part of the 'early American' scene. The real lighthouse, just like this, stands at Cape Neddick, York, Maine. I've used this lighthouse in several paintings.
The white, fluffy clouds thumb tacked above the lighthouse are there to give balance to the painting. Besides, who ever saw a lighthouse without clouds?
The ship just below Cape Neddick lighthouse is a figment of my imagination. I don't know if it would float, and I don't know if it would sail if it did float. But, artistically, it was the ship I wanted in my memory box.
The fish wagon to the ship's right is a cast iron toy. Before plastic, iron was popular. Plastic is great, but it will never equal metal for the making of toys, do you think?
SAILOR BEAR is holding the American flag. Like me, SAILOR BEAR is patriotic. We love America and we think it's the GREATEST country in the world. This flag was made when there were only 20 States in the Union. The 20 star flag was the third in flag design, and came into being in 1818. The 13 stripes remain constant, representing the original 13 colonies.
The scrimshaw in the center pocket is an artifact we purchased in Rockport, Massachusetts. Above the roof of the connecting building to the light tower, you'll see 'Leo LOVES Lenette.' I still do, after 55 years. All of the other do-dads are simply 'window dressing.' Marbles make beautiful 'window dressing.' They add color where you need it.
I hope you like looking at SAILOR BEAR WITH MEMORY BOX, as much as I enjoyed painting it. Thank you, and may God BLESS!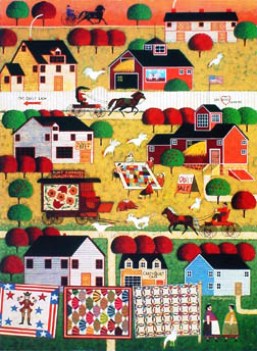 'QUILT COUNTRY'

'QUILT COUNTRY'
There's something very special about a quilt that has been made by hand, on quaint stretcher frames. In earlier times it was a necessity for the women of the family to save pieces of cloth, and cut them into interesting shapes, and sew them into quilts. They were for keeping the family warm. There were many patterns to choose from -- Patchwork, Wedding Ring, Crazy Quilt, Fan, and many, many more. Quilts made by these ladies have been handed down from one generation to another. Often times, instead of spreading them on the bed, they are hung on the living room wall, or family room wall, so that they can be enjoyed by family visitors.
Although imitations are being made to look quite like the originals, the real thing is much more collectible, and precious, and expensive. There were no synthetic materials in 'Early America.' Quilts were made from cotton. There were no king size beds, so the size is generally the size of a regular bed.
When I painted 'QUILT COUNTRY' my thoughts went back to when I was a boy, 4 or 5 years of age, living with my Aunt Fannie, who took me and three siblings to raise when our mother died. Her house wasn't large, but I remember quilting frames set up in the living room, with Aunt Fannie and 3 or 4 neighbor ladies sitting around it, busily cutting, sewing, and visiting.
Aunt Fannie was very precious to me. She sort of spoiled me because I was the youngest. She lived on top of a hill in farm country and when she wasn't cooking, or sewing, or plowing, or planting, or milking, or fishing, she could often be found at a neighbor's house, delivering a child. I asked her once, how many babies she had delivered? She thought for a minute and leaned from her rocking chair, "I guess if I stopped to count all of them, there would be about 300."
I couldn't help but remember her in "QUILT COUNTRY." She, of course, didn't do quilts for a living, nor did she have a brightly colored 'quilt' wagon in real life, but she does have one in "QUILT COUNTRY," and she goes about throughout the country, selling her beautiful quilts. That's her in the closest chair, near the wagon.
I might add that the Fan Quilt, hanging center on the line, was made for Lenette and me by my dear sister Ruby. We treasure it dearly, and one day it will pass on to one of our three daughters.
The 'Early American' Quilt on the left is only a figment of my imagination, as is the 'Blossom' Quilt painted on Aunt Fannie's wagon. The Crazy Quilt is being knit by the ladies in the middle ground. The painting would not have been complete without a Crazy Quilt.
page> 1 / 2