5. and 6. Reconstructed and created in photoshop from parts, handles and blades.
Parts are Mycenaean 1600 BCE





7. AHMOSE ( NEBPEHTYRA) Ceremonial Dagger 18th dynasty, 1550 - 1525 BC

8 . Egyptian Bronze Dagger with Ivory Handle 1550 BCE, The Louvre Museum, Paris France
9. TUTANKHAMUN ( NEBKHEPERURA - TUTANKHATEN ) circa. 1336 - 1327 BC Gold Blade , craftsmanship shows distinct Influences from the Peloponnesian and/or Aegean cultures
10. Dagger gold Achaemenid Dynasty VI century BC, Iran

11. Bronze Dagger from Hebron in Canaan 1900 BCE with bone handle.
A similar dagger may have been used by the Biblical Abraham in the story of the Sacrifice of Isaac. This dagger is an interpretation composed in Photoshop using a blade from Hebron and a Bone Handle from Malta, both artifacts are from the middle bronze age.
12. Bronze Dagger From Luristan (Iran) 1500 BCE
| | | | | | | |
| --- | --- | --- | --- | --- | --- | --- |
| 13. | 14. | 15. | 16. | 17. | 18. | 19. |
13. Bronze sword from Hajdusamson,Hungary 1600 BCE

14. Pair of Mycenaean Bronze swords with guilded handles 16th Century BCE, see in the illustration above that a similar sword was
illustrated at Mendinet Habu in 1200 BCE
15. Myceneanean Sword with Gold Handle 1600 BCE, Composite illustration of blade and handle from Pylos created in Photoshop.
16. Short Bronze Sword, Luristan Culture of North Western Iran 15th Century BCE.
17. Persian Sword with double pommel handle 900 BCE.

18. Amlash Culture Iran Bronze Sword 13th Century BCE
19. Sardinian Sword blade with Mycenean Handle Circa 1600 BCE









20. Bronze Age sword Canaanite, 13th century BCE
source INA, University of Texas, Uluburan Wreck
21. Bronze sword of the British Isles from the 2nd Millennia BCE
22. Bronze Sword from Eastern Germany Circa 1000 BCE
23. Rapier Blade Wessex Culture British Isles circa 14th Century BCE

24 . Symitar from the Royal Tombs of UR Circa 2500 BCE

25 . Symitar from Egyptian New Kingdom (1570 - 1070 BCE)
26. Scythian sword case from the fifth Century BCE. During this timeframe the Scythian Culture created gold artifacts of unsurpassed beauty, in my opinion the esthetics of the artistry in these items has never been improved upon or equaled.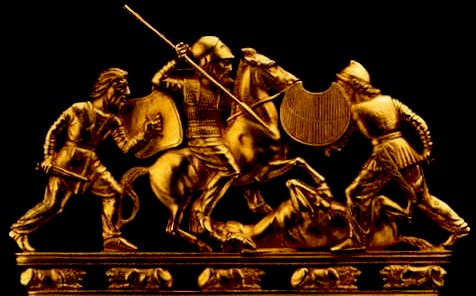 Scythian Gold depicting weapons and dress of Scythian Warriors
5th Century BC
The griffin played a prominent role in the Iconography of the Scythian Culture. In the history of the Peloponnesian Peninsula the Mycenaeans used the Icon of the griffin as did the Minoan's. The prominent use of the same symbol in Scythia 1000 years later in history strongly suggests a connectedness between these cultures which may have constituted a shared culture and trade.
This page was published by Comstock Sculpture Studio for Artsales.com.
Please Direct all Inquiries about content to:
Comstock Sculpture Studio
1201 West Thornton Parkway #313
Thornton C0. 80260
Telephone (303) 657 9778

E-mail: comstock07@artsales.com
---