Preserving America's and Colorado's Carousels Legacy
"Chief's Pride"
For every child and the children of all ages who have ridden carousels it is difficult to forget the exhilarating experience of having taken a whirling ride within a menagerie of animals moving in unison to music generated by brass instruments and pipe organs.
Life before the Carousel ride was pure sense deprivation by comparison to the experience a well oiled carousel gave us.
The carousel experience may have engendered the fantasy of being Saint George ready to slay a dragon or of being a cowboy in the countryside riding hard and burning leather, however those of us who have ridden a carousel have been fortunate enough to have had our senses stimulated and our minds set free in the realm of the imaginary only to experience flights of fantasy through the worlds of history and mythology.
The artistry imbued in the carousel has been the catalyst and stimulus for innumerable flights of fancy never to be completely forgotten.
Carousels are more than spinning platforms moving to melodic brass and organ music, to ride a carousel literally becomes an intoxicating magic carpet ride into the world of fantasy where a person's heart and mind can truly meet spirit.
Denztel Carousel at Venice Beach California,
a carousel treasure lost in the 1924 Pier Fire
---
The Industrial revolution of the late 19th and early 20th centuries and the artistic heritage brought to Rural America from Europe spawned an era in which Carousels became an enriched artistic expression and the creative synthesis of the mechanical, musical and artistic influences a truly new era of art history.
The accelerated development of everything mechanical in the early 20th Century combined with art and music created the golden era of Carousels never to be forgotten by those who have experienced the thrill of a Magic Carpet Ride.
Located at Children's Museum Pueblo Colorado, Donated in Memory of Evelyn Lucille "Seal" Williams, art work by Will Morton and Boyce Bronze Casting year 2000. Photograph by Ione Miller from "Pueblo an Illustrated History" By Eleanor Fry and Ione Miller
To Purchase this item please contact

Comstock Sculpture Studio
1201 West Thornton Parkway #313
Thornton C0. 80260
Telephone (303) 657 9778

E-mail: comstock07@artsales.com
This carousel horse is of the Jumper Theme which traces its artistic origins to a style of English Painting from the Early 19th century. The pose and attitude of the horse was copied from these paintings depicting English Jumpers. The Classical origins of this style can be meaningfully linked in art history to the English artist George Stubbs.
For costs and details of how to purchase a similar sculpture click on the links provided in the color photographs.

The story of the Pueblo Colorado community efforts to conserve the heritage represented by the Lake Minnequa Amusement Park Carousel can be closely linked to the efforts of George Williams and Colorado artist Will Morton.
Carousels Themes
Many themes were used within the art of the carousel some selected favorites are, Menageries, The Wild West, Chariots, Mythology and Romance
Ancient mythological themes often frequent carousel art as mankind's association with the horse seems to be ageless. Above Scythians going into combat with their horses decorated as Sacred Ibex, from a Greek attic pottery design dating to 550 BCE, reflects this ancient association. Scenes like this from other myths and stories inspired numerous designs.
George Stubbs, ' Whistlejacket' , 1762. London, National Gallery and " Lady Lade" 1793. Oil on canvas. Royal Collection, UK

This theme was a favorite of many carvers and the direct inspiration for the C.W. Parker jumper.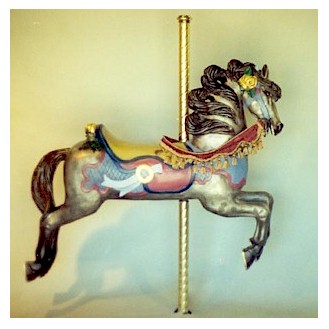 Knights Horse Photograph From "Painted Ponies" see credits below.
This horse is patterned after those that carried 16th Century Knights in Armour. This is what the horse of Joan of Ark, the Maid of Lorraine may have looked like.