Art History
16th Century: The first 100 years of the Globalization of trade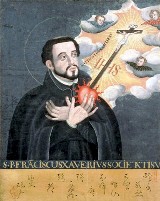 Francis Xavier (1506-1552) co-founder of the Jesuit Order makes Asia and Japan his personal mission field. The story of the patron saint of Christian missions to Asia and Japan is set in a historical background the richness of which few have understood or fully appreciated.

The 16th Century and the first 100 years of the Globalization of trade
---
Artists represented at ARTsales
Earl Waggoner's
"Navajo Life in the 1950's" Exhibition.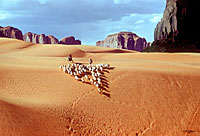 The late Earl Waggoner spent years in the Navajo Nation, capturing it's culture and history on film. His worked has been restored and archived for viewing. Available as fine art prints for your personal home decor.

Here's a taste.
---
Chester Comstock Sculpture Studio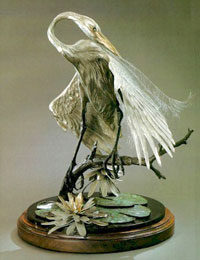 For over 30 years, Chester Comstock has been masterfully creating bronze wildlife sculpture. His work is in the collections of golf legend Jack Nicklaus, Joseph Pulitzer Jr. and the Audubon Society. In association with artsales.com, Chester's work is now available direct from the artist himself. Check out his online art gallery and have a look at his latest projects. Chester's early work has been evaluated by appraiser's at three to four tmes its's sales price for the secondary art markets. Chester's art has been collected internationally and is found in the home decor of the celebrities and collectors. Chester's art is primarily designed for home decor.
See Chester's Bronze Sculpture Studio and Art Gallery
---
Hinz Fine Art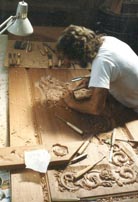 Hinz Fine Art Studio was created in 1985 and has fulfilled over 350 commissioned works for churches throughout the United States. Our goal is to assist you in the design, creation and installation of furnishings, sculpture and fine art for your church.

Hinz Fine Art offers a selection of fine Jewelry

Go to Hinz Fine Art Studio
---
Alonzo Clemons, Prodigious Savant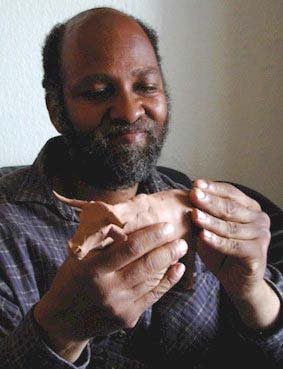 Alonzo Clemons is a PRODIGIOUS SAVANT
with a photographic memory and mental abilities similar to the character portrayed by Dustin Hoffman in the movie Rain Man.

You are invited to visit our artist's studio featuring Alonzo's story and artwork
---
Hitter's Hands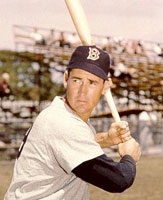 What do Ted Williams, Todd Helton and Ralph Kiner have in common besides hitting the cover off baseballs? They've all had their hands cast in bronze sculpture by Raelee Frazier. This art is ideally suited for the home decor of the sports enthusiast.

Have a look.
---
Steve Boyce

Boyce Bronze Casting has been providing full service bronze casting services since 1986. Located at 5555 Harlan Street in Arvada, Colorado.
Also the location of Boyce Studio the personal studio of proprietor Steve Boyce.
---
Oleg Stavrowsky
Oleg Stavrowsky is a realist painter of the contemporary and the historic West. He is one of the most recognizable of western painters today because of his unique painting style. Oleg's paintings carry his personal signature with the underpinning of great draftsmanship, broad brush strokes, dynamic colors and pushing the envelope of illustrator's techniques.
Visit Stavrowsky's studio
---
---
Art for Sale:
ARTchive:

ARTprints for home decor
ARTshop: Purchase online from our shopping carts
---
Art Prints
Publishing fine art prints with Artsales.com

ARTchive:

ARTprints for sale

ARTprints by Oleg Stavrowsky
Impressions of Early America by Leo Bryant
---
Artists
Artist's Studios
Art Galleries
Earl Waggoner

Boyce Bronze Casting

Raelee Frazier
Bill Tyree

Michael Schneider

Oleg Stavrowsky

Leo Bryant

---
Articles Editorials and Art History
Artist's view of the history of the buffalo during the expansion of the American West
The Kansas City Monarchs produced Baseballs Hall of Fame Players
Invasion of the Sea Peoples, 12th Century BCE
16th Century Japan, the mission of Francis Xavier
American Prairie Settlement

Preserving America's Carousel Heritage
The Epic Voyage of Hasekura Tsunenaga
William Adams the first Englishman to Visit Japan 1600
---
Art History
Ancient Ships

The likely appearance of the Ark of the Covenant
Angel Images: An Angelic Journey Through Time
Daggers, and Swords of Bronze age Cultures
The Temple of Solomon with the Columns Joachim and Boaz
Nubia: The source of the gold used to build the "Ark of the Covenant"

The 16th Century and the first 100 years of the Globalization of trade
St. Francis Xavier meets Otomo Sorin the King of Bungo

James I of England and his personal correspondence with Tokugawa Ieyasu

---
Art Prints
Publishing fine art prints with Artsales.com

ARTchive:

ARTprints for sale

ARTprints by Oleg Stavrowsky
Impressions of Early America by Leo Bryant