It is our pleasure at artsales.com to host the official web site of Alonzo Clemons and Gifted Hands, Inc., representing his bronze sculptures.
Alonzo Clemons is an artist with a remarkable background. His sculptural specialty is the creation of animal figures, full of life and spirit, which are made with amazing speed, great accuracy in form and artistic beauty.

As a toddler, Clemons suffered a head injury in an accident; this changed the way he thinks, learns and communicates. While much was lost due to the injury, something miraculous also occurred, for as Clemons sometimes puts it, "God gave a gift." He began showing a fascination with modeling materials and a tremendous inner drive to make sculpture. Even in situations where he did not have access to modeling clay, his determination to make models of animals was so great that he found materials in his environment that he could use for sculpting.
For over twenty years he continued to practice his art in obscurity until the early 1980's, when the movie Rain Man, which featured Dustin Hoffman in the role of a disabled man with remarkable skills of memory, brought international media attention to a phenomenon known as the Savant Syndrome.
Savant Syndrome is a descriptive term applied to individuals who have both a developmental disability and a spectacular, genius-level skill in a specific area. Clemons is recognized as one of the world's prodigious savants and has been featured on programs such as 60 Minutes, Geraldo, and the Discovery Channel's World of Wonder.
This media exposure gave him the opportunity to gain worldwide recognition for his art. From his youth, Clemons had not only the genius for his art, but has shown an inner vision to become successful with it, and those dreams are truly continuing to unfold in his life.
His personal successes extend beyond his art, for he has a rich and active lifestyle in his community of Boulder, Colorado. He lives in his own home with some assistance, and works part time on jobs in the community, in addition to doing his work as a sculptor. Seeking to inspire children's creativity, he demonstrates his sculpting at schools in the area. Other personal interests include power lifting, in which he competes at the Special Olympics, and visiting the animals he enjoys so much at the Denver Zoo, the National Western Stock Show, as well as local farms and ranches. His radiant personality touches all who know him.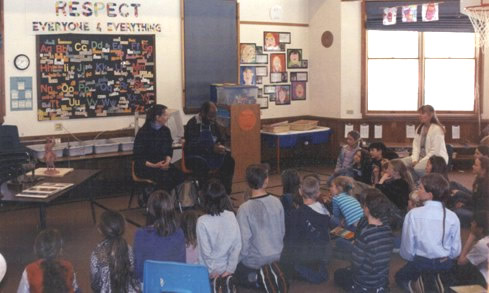 Sculptor Chester Comstock had these observations of Alonzo Clemons and his art:
"Being a sculptor myself and having lived and worked in Colorado for most of my life, I had heard of Alonzo and had exhibited my art in the same gallery that represented his work. Although I had seen and appreciated his work and helped with the manufacture of many of his bronzes, when I first met Alonzo it was immediately apparent that he had not only unique abilities as an artist but that he had a personal charisma that completely overshadowed the fact that he had some degree of mental disability. From conversations that I have had with others, many people who have had the opportunity and privilege to meet him personally share this observation.

His success as a person is a credit to himself and to the family, friends and helpers who through the years have allowed him to blossom in both his artistic skills and personal development.
While his savant nature undoubtedly provides him skills which contribute greatly to his genius as an artist, Alonzo's personality, artistic sensibility, and love for his subjects are also expressed in his beautifully rendered sculptures. His approach to his art is simple, direct from the heart, and uncluttered by cultural conventions. In Alonzo's art and life his accomplishments are truly heroic."
---
Sculptures available for sale:
"Mustang Sally"



5 3/4" high
X 4 3/4" wide
x 4 3/4" deep

Price: $ 285.00

"Prince of the Plains"



6" high
X 4 " wide
x 8" deep

Price: $ 625.00

"Giraffe"



11 " high
X 5 1/2" wide
x 5 3/4" deep

Price: $ 825.00

"Young Arabian"



9" high
X 7 1/2" wide
x 3 3/4" deep

Price: $ 810.00

" Ernie
The Bull "


28" long
X 18" high
X 16" deep

Price: $ 5,000.00

"Fighting Stallions"


28" long
X 21" high
X 10" deep

Price: $ 3,000.00

" King of Salmon"


12" long
X 10" high
X 9" deep

Price: $ 900.00

" Grizzly Bear"


11" long
X 7 1/2" high
X 4 1/2" deep

Price: $ 860.00

"The Oldtimer"


12" High
X 7 1/2" Wide
X 8 1/4" deep

Price: $ 1,500.00

The first piece of this edition was commissioned by Kaiser-Permanente for the New medical center in Boulder County, Colorado
---
Gifted Hands is the Official Representative of Alonzo Clemons:
To order these sculptures contact
Nancy Mason at:
Gifted Hands
11510 Gold Hill Road
Boulder CO 80302-9716

Telephone: (303) 459-3397
E-mail: info@giftedhandsalonzo.com
---
Other examples of Clemons' sculpture:

It is one of Clemons' goals to have the opportunity
to create additional life-sized sculptures.

See Dr. Darold Trefferts Explanation of the Savant Syndrome
All images are copyrighted and are solely and wholly owned
by Alonzo Clemons and Gifted Hands, Inc. ©Copyright 2004 Gifted Hands